Jim Murray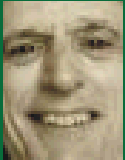 Yes, OK, I was young, vulnerable, and naive. But still… would you expect that a 10-minute conversation with a smartly-dressed stranger would change 

– entirely and permanently – the trajectory of your life? Me neither. (But for me, this one did.)  Here's the STORY…

After working at a picture-framing shop, my first real job out of college was in downtown Atlanta, teaching advertising at a small junior-college for rich kids – mostly beautiful girls who would never, ever need a job and were just killing a little time after high school, checking-out mating-possibilities among the healthy stock of Georgia Tech boys.
They were beautiful, if academically unmotivated. (Apparently growing up with way too much money can tamper with your motivation.)
One had her very own Rolls Royce. Others had to make do with hand-me-down Bentleys. The needier ones (probably on scholarships) drove Mercedes.
Some hoped to become runway models and majored in Fashion Photography. Others majored in Fashion Merchandising, imagining they'd toy around for a few years as fashion buyers for Neiman Marcus, Lord & Taylor or Saks Fifth Avenue.
We all knew I was out of my class but they found me amusing and cute (because I was small) and we all got along great. Even though I knew nothing about teaching and (looking back) virtually nothing about advertising.  But that didn't matter. They didn't care. These statuesque beauties wore perfect makeup and designer dresses to class. And they had great posture.Was there more to life?
When it happened, I had been on the job only a few months, having just graduated the spring before with a bunch of honors and a degree in journalism, just knowing that corporate America was surely lining-up to get first dibs on my creative genius. Apparently not. So I while I was waiting for the phone to ring, I had taken this suddenly-appearing teaching job.
I was enjoying having a paycheck and teaching in downtown "Hotlanta."  Well, until….
The absentee owner of the school (one of the country's richest men and heir to one of America's best-known dynasties) went into receivership – the last step before bankruptcy. (My guess is that our little college was just a tiny blip on his massive portfolio – an asset he never even knew he owned.)
Even though the college was a solid money-maker, when the court froze the assets, our paychecks stopped. Instantly.
The school went into a tailspin.
Someone called an unscheduled "emergency faculty meeting" where it was made clear that the fate of the college was in our hands. Wow. For my first job, this was exciting.
They outlined Plan A: If we all abandoned ship to find other jobs, the school would close, the moneyed, tuition-paying-parents would panic, all our beautiful (and sometimes shallow) students would drive away in their iconic cars never to return, and we'd be without jobs. (Not too promising.)
But then…
Someone suggested a Plan B. It went like this:
If we stayed for a while and continued teaching (without pay) – to keep the school open – then the girls might not have to experience the painful (but probably useful) trauma of breaking-up with their Georgia Tech beaus and (maybe) someone might come buy the school and, in the end we'd all have jobs and, ideally, we hoped, our back pay.
"Hey, maybe whoever buys it will pay us our back pay!"
Probably because we were just postponing going out and looking for a new job, most of us voted for Plan B.
Surprisingly, this became national news – the media thought it was a nice human-interest counterpoint to the stories of underpaid public school teachers around the country who had been going on strike and (temporarily) closing their schools.
And, yes, luckily for us (maybe even alerted by the national news features) the cavalry arrived.
Some sharp-looking pinstripes right off the cover of GQ – just as I imagined my future corporate clients might look – swooped in from Philadelphia to acquire this distressed (but still viable) property.
These out-of-town players praised us for having rescued the college and kept it open long enough for them to pluck it for their portfolio. Suddenly, we were happy.
Then – just before signing-off on their deal with the court – they let us know they wanted to address the issue of "back pay" personally, with each of us. They needed each of our signatures.
So, one by one (it's called "divide and conquer,") they brought the faculty and staff into a little office with a little desk so that they could, once again, personally shake our hand and personally and sincerely thank each and every one of us for working all those weeks to keep the school open.
And then… , these predatory pinstripes looked each of us in the eyes, smiled warmly… and personally lied to us.
One by one, they personally screwed each of us out of varying amounts of our back pay.
Of course we didn't know that at the time. But when we found out…
I felt… betrayed. After all, these guys were so much like the ones I had envisioned working with in my career.
What was the short-term impact?
Well, I was single, child-free, and mostly debt-free. But for at least one struggling breadwinner only a year or so older, who had a small newborn and a big mortgage on a new house, it was certainly more traumatic than breaking up with a Georgia Tech boy.
A few months later, I quietly left to take another Advertising and Mareketing teaching job in Baltimore (another disaster story — someday maybe I'll write that sequel.) Finally, I returned to college where — under the guidance and shelter of graduate school — I could hide-out and lick my wounds.
These traumatic years were just before the very first Earth Day so — like most Americans — I hadn't yet developed any moral stance or social consciousness about advertising content, mindless consumption, or corporate ethics. (Is there such a thing? This was all new to me.)
So, while hiding out for a few seasons I went to classes, lay in the sun, read a-book-a-day, watched the Watergate hearings, and reassessed my future and my shifting-thoughts about America.
Being lied to so smoothly and comfortably by these pinstripes had changed everything. Inadvertently, they had rescued  me from a career in corporate America. (Thanks, guys!)
Of course, at the time, I felt victimized. But looking back, I see that  I was taking it far too personally. They didn't lie just to me. They lied to everyone. Really, they were probably just sociopaths.
So, because I had spent 4 years (a big percentage of my life at the time) preparing for a career in journalism and advertising, and because I was still young and idealistic, I decided I needed to salvage my advertising, design, video, film-making, and communication skills and use them… "for the good of humanity." Not for making more money for the faceless, ever-changing stockholders of heartless corporations,
Although the pay was less (sometimes extending all the way down to nothing,) I discovered there was no shortage of non-profits and tiny businesses needing my skills.
In pursuing my graduate studies, I became obsessed with understanding how to design far more engaging, effective, and persuasive messages for "citizen groups."
I reasoned that since non-profits didn't have big budgets for hiring ad agencies with teams of psychologists, each of their messages would need to be far more potent.
Eventually, because of my environmental media work, legendary-environmentalist David Brower invited me to serve on the board (for 7 years) of Friends of the Earth — an international environmental organization with affiliated offices in 28 countries.
Around that same time, I was commissioned by a famous director to write a feature-length script. But in the process, I discovered that the glamour of Hollywood was counterfeit which only reinforced my growing disdain for corporate-America. So I navigated elsewhere.
Over the years, I accumulated 3 graduate degrees (journalism, communications & cognitive psychology, environmental sciences) and served for a while on the faculties of 3 state universities. But, to me, far more interesting than teaching traditional college students on campus was my stint at teaching in 6 different Ohio prisons over a dozen years.
In the decades since being burned by the "bad guys" in pinstripes, I have remained free — independent and unencumbered by long-term obligations. That has turned out to be a great career move which opened up a kaleidoscope of short-term opportunities I would have missed-out on if shackled to a full-time corporate career or tenure-track position.
For example, as a freelance media and marketing consultant, I was able to work in Aspen, Alaska, and Africa, and over the years, I consulted on projects for:
The Consumer Federation of America
The U.S. Coast Guard
The Federal Trade Commission Office of Consumer Protection
The Office of the United States Congress
Procter & Gamble Research Laboratories
Ferrari North America
…plus countless small businesses, professional services, small government agencies, and non-profit organizations.
After starting a video production company, I created university recruitment and promotional videos, produced a controversial 15-part, local "soap opera" that was featured nationally in TV Guide and then a far more controversial 2-hour documentary (from which a 6-minute clip has accumulated over a half-million views on YouTube.)

As a freelance writer, I published articles in The Progressive, New Age, Living Alternatives, and several trade publications.
Meanwhile, my own individual, entrepreneurial projects took me to England where I spent four months hanging out with celebrities at Pinewood Studios — Europe's largest film studio.
Other projects allowed me to interact with Elizabeth Taylor, Paul Newman, John Denver, Pete Seeger, 2-time Nobel-Prize-winner, Linus Pauling, and others.
Over the years, starting my own, small, one-person, service businesses as needed, allowed me to hold onto my values while making the world a better place. Now, of course, we have a label for "Social Entrepreneurs." But at the time I was happy supporting myself while delivering some social good and inflicting minimal harm to the planet.
The best part of having been self-employed as a marketing consultant and media designer for so many decades is that it has given me the opportunity to work with such a wide variety of individuals, organizations, projects, and topics. It's given me access to fascinating people and worlds I would otherwise never have entered.
During that year of wound-licking when figured out my values, I also decided never to allow myself to be compromised or put into a position I couldn't walk away from. And I owe all of that to the pinstripes and their silver tongues.
Fortunately, over the years, I've been able to maintain my freedom while combining (and balancing) the best of big-city and small-town lifestyles.
I've quietly settled into the Appalachian foothills in Southeast Ohio where I can continue my research into message design.
Now, thanks to the Internet, it's easier than ever to "create money out of thin air."  And, from anywhere, I can share my own "down-to-earth marketing-strategies" with hand-picked clients, including non-profit organizations, foundations, academic institutions, green tech entrepreneurs, and wellness professionals.
During the warmer months, at my office in NYC, for very small groups or individuals, I conduct exclusive, closed-door,  intensive workshops on strategies for branding, marketing, and ethical persuasion.
From the lessons learned from many painful mistakes over the years (which I've edited out of this narrative) and from having read hundreds of books on human psychology, persuasion, and marketing, I managed to glean enough wisdom to synthesize my own clean and simple system of ethical, persuasive marketing communication. My own theory. My own philosophy.
It seems to work for all kinds of projects. And it definitely resonates with clients.
In a single, 6-hour workshop, I can take someone who admits they don't have a clue as to what marketing and branding really are and walk them through my simple framework for designing powerful messages that work!
It's fun to see my clients develop amazing confidence in such a short period of time. (Read through a few of the testimonials.)
Of course, like you and everyone, my time is limited. As a limited resource, I can't — and choose not to — work with everyone.
After all, there is a long list of my own dream projects awaiting my attention.
Even so, if you and your project interest me, maybe I can help untangle your branding problems.
Maybe you would like to replace your marketing confusion with clarity and maybe I can share with you my simple framework of strategies for "influencing with integrity" so that you can build your own marketing confidence and accelerate your success.
Now, this may sound a little self-centered and maybe even arrogant… but if you have a challenging marketing problem that benefits the planet and makes the world better for others… if you are willing to invest the money and effort to make it work…  if you think I may have something to offer… if you think you can convince me that quietly helping you make your own project a success might be better for society than my spending time on one of my projects… (and you probably do)…  then please reach out to contact me.
We can set up a time to talk, see if it's a good fit (either one of us can say No), and then we can go from there.
So take some time to think about it.
Meanwhile, I hope your life is going reasonably well (or even better!)
Thanks for reading.


"Jim Murray is a masterful marketing mind! "

Susan Urano, Executive Director
The Athens Foundation

"Jim Murray must have invented social entrepreneurism. His insights are boundless. He has an immediate grasp of an organization's goals, objectives and needs. Good ideas flow from him like a fountain. It's almost an extension of his skin. He exudes a humble, yet matter of fact, confidence based on a foundation of good sense, practicality, and experience.

"Implementation of a small percentage of his guidance and direction should result in considerable success for any organization. It is as if he knows your job better than you and has been doing your job successfully for decades."

Tom O'Grady, Executive Director
Past President, Board of Trustees
Southeast Ohio History Center

OK.  So where do you go from here?
Try SERVICES to change your life.